Publish Date:
9 November 2022
Homelessness within the Rainbow community
There's a high level of understanding that homelessness is a complex issue that is shaped by social, cultural, and historical factors. But how much do we know about the factors that impact homelessness among the Rainbow community? Read on to get some insights about Rainbow homelessness, learn more about our journey as we support Rainbow people experiencing homelessness, and find out about some great work that is happening in Tāmaki Makaurau. 
Insights
International research tells us that LGBTQIA+ people are more likely to experience homelessness than non-LGBTQIA+ people. Rainbow people make up 5-10% of the wider population in general, whereas they account for 20-40% of the homeless population. Research in Aotearoa highlights that: 
Rainbow people are more likely to experience housing deprivation than their non-Rainbow peers;

 

takatāpui (Māori Rainbow people) are

overrepresented in homeless populations; and 

 

Rainbow people are more likely to live in homes that are cold, damp and have problems with mould.

 
The graphic below, developed by Dr Brodie Fraser, shows the intersecting factors contributing to Rainbow homelessness.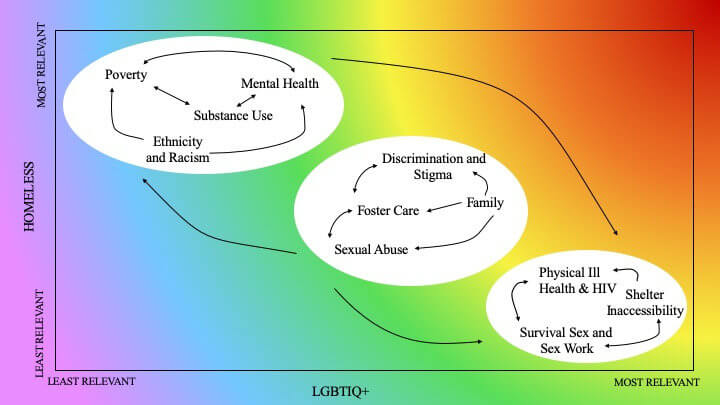 Figure 1.  Intersections of LGBTIQ+ Identity and Experiences of Homelessness. The groupings from left to right are; proximate causes of homelessness, systems failures in early life, and experiences during homelessness. 
Research from Dr Fraser includes interviews with eight LGBTQIA+ people who had experienced homelessness in Aotearoa. Individuals from the study shared similar experiences, such as an unstable family life when growing up. This was seen through rejection from their immediate family when they shared their sexuality and/or gender.  
Dr Fraser's insights about the breakdown of family relationships are supported internationally. The breakdown of family relationships is one of the main reasons that Rainbow rangatahi become homeless. Rainbow rangatahi are sometimes kicked out of home when they share their identity or decide to leave because they feel so uncomfortable. Once Rainbow rangatahi leave home, they can often remain homeless for a long time due to factors such as poverty. 
Other studies also tell us that homeless Rainbow people: 
have higher rates of substance use when compared to non-Rainbow people experiencing homelessness, with homeless transgender people having even higher rates than their lesbian, gay, and bisexual peers; 

 

face higher levels of sexual assault – particularly

rangatahi

and transgender/gender-diverse people;

 

are more likely to be discriminated against when seeking housing; and 

 

experience significant mental health challenges.  

 
The link between mental health and homelessness has long been established. Between 42-80% of homeless people experience mental health struggles, with rates for non-homeless Rainbow people only slightly lower at 40%. The Rainbow population is also more likely to experience depression, suicidal ideation and attempts, compared to non-Rainbow people.  
The Housing First Auckland Collective understands the local Rainbow population navigate similar issues.  Rainbow people we have supported have often experienced: 
trauma from abusive relationships;

 

drug addiction and/or mental health issues including autism and ADHD;

 

social exclusion by their family and/or wider community like schools; and 

 

low self-esteem and/or confidence in their abilities. 

 
Our social workers have shared that we need to work alongside whānau respectfully, attentively, and intentionally to achieve positive outcomes. It's important that we respect whānau choices and challenge discriminatory behaviours from services. We also need to support Rainbow people by encouraging them and giving them tools to use their voices and advocate for themselves. All of these are vital for their long-term well-being.  
We also have a responsibility to reflect on and change current systems, structures, practices, and workforce development. Making Space, a partnership between RainbowYouth and Te Ngākau Kahukura, is a positive example of this. Making Space is trying to build capacity within homelessness and housing services in Tāmaki Makaurau to provide safer, non-discriminatory and responsive services for Rainbow people. Their hope is that by improving Rainbow people's experiences of services they will get housing support when and how they need it.  
Click here to read more at Dr Fraser's research.
Click here to learn more about Making Space